Swimaholicks, I would very much like to introduce you to the Speedo Fastskin Kick Fin.
Fins are a useful aid that shouldn't be missing in your swimming bag along with the hand paddles. The fins will diversify your training, improve endurance, strengthen your legs and makes your ankles more flexible.
These fins are another unique piece from the popular Fastskin line, which is developed for those swimmers who like the best swimming equipment.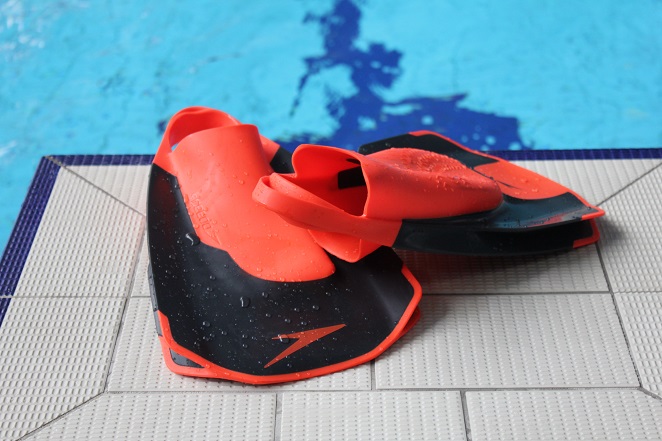 Even when I put them on dry legs, they were extremely pleasant and I couldn't wait to try them out in the water. You will have maximum comfort in these fins. Speedo used 3D foot scanning technology in their production to imitate the feet for more comfort and a better kick in the water, and they did a great job. The material is very pleasant and there are no rough ends anywhere on the fins. The fins have an open heel and their great feature is a loop for easier putting on and taking off.
There are grooves on the underside of the fins that help during the flip turn and your legs will not slip on the swimming pool wall. The fins also have bifurcated sides, which support the rigidity of the fins and make the kick stronger and more stable.
These fins will help you swim at higher speeds, because of their ergonomic shape, stiffness and because they are relatively heavy. I see this as a big plus. They were rated as the highest quality and fastest fins from the Speedo brand, and I agree with that. Their workmanship is one level higher, compared to the competition.
Thanks to these fins, you will stay high on the water surface and you will enjoy the feeling of gliding on the water surface, which I like. You can swim multiple sprint series with maximum effort without pain in your legs, as with other fins, sometimes.
I was fascinated by the look and the Speedo logo on the front of the fins. You will receive the fins in a black Speedo paper box. They even made sure their packaging is environmentally friendly. This red-black combination is very interesting, but it would be great if Speedo made these fins in other colour combinations too.
They are very short, which allows quick kicking, and short-distance sprints are amazing with them, which is suitable for everyone who competes in short-distance swimming. Because of their shortness, they allow the leg to return to its original position and make a new kick again fast.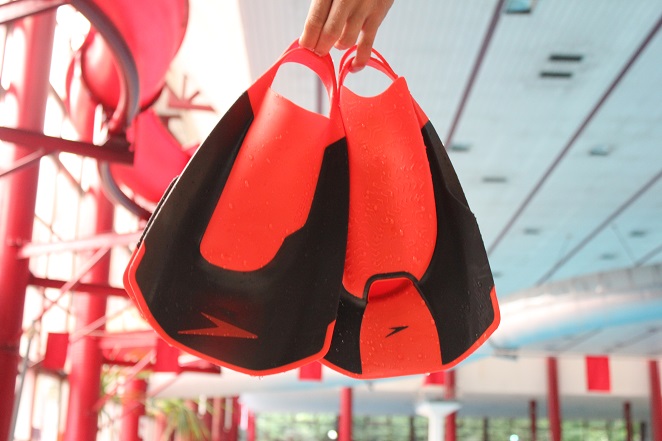 I would recommend them for more advanced swimmers who want top-quality fins on the market and care about comfort and appearance. I don't recommend these fins for beginners, as the fins would be too stiff for them, swimming with them would be difficult and they wouldn't enjoy it.
Why should you choose these fins?
- They are Speedos fastest fins
- They are stiff and fast
- Pleasant material
- The fins adapt beautifully to the foot
- Amazing look
- Improved kick technique, body position and better ankle flexibility
| | | | | | |
| --- | --- | --- | --- | --- | --- |
| Size UK | 3-4 | 5-6 | 7-8 | 9-10 | 11-12 |
| Size EU | 36-37 | 38-39 | 40-42 | 43-44.5 | 46-47 |
Fastskin is a label for Speedo products that are designed for the best hydrodynamics in water. It's a swimming equipment designed for racing and performance swimmers to reach the most optimal performance. In the Speedo Fastskin range you will find complete equipment. The main ones are, of course, swimwear, goggles and caps that are homologated by FINA, but you can also find training equipment like kickboards, hand paddles and fins. The main success of these technologies is that Speedo carried out a 3D scan of elite swimmers and, through computer simulation, then conducted research and calculations on the resistance and durability of materials.