BornToSwim Swimming Exercise Bands is a resistance band for working out designed for swimmers who want to diversify their dry training and enjoy swimming training even outside the pool, because you engage the same muscle areas with it as when swimming in the pool. You can choose from three difficulty levels: light (yellow), medium (red) and heaviest (blue). The diameter of the band increases with a greater difficulty level. The length of the entire band is 130 cm.
The great advantage of training with a swimming resistance band for working out is strengthening the upper body, improving the dynamics of swimming movements, explosive and endurance strength, a greater range of swimming grip and better coordination of movements and speed, which is very important. You will work out the most on your chest, shoulders, biceps, back muscle, body core and even legs.
With the resistance band for working out, you can train the crawl, butterfly stroke and breaststroke. With the resistance band for working out, you can also improve your technique, a good grip of the water and see if you have the right trajectory of your arms. The resistance of band increases by stepping further from the attachment point.
The work-out resistance band itself is flexible; the paddles are beautifully stiff, light and feel comfortable in the hand. Your hands are held by an elastic band attached to the middle finger and a strap. You can easily adjust the tightening force by pulling on the rubber or strap. The grip is the same as with classic training hand paddles, which I perceive as a positive feature.
The work out resistance band can be attached to the steps leading to the pool, various handrails, outside on the workout playground, for example on ladders or other exercise elements.
It is one of the most effective and popular aids for swimmers for quality training outside the pool or to warm up muscles before training in the pool.
You will find a work-out resistance band in the equipment of a large number of swimmers. It is foldable, so you can easily throw it into a swimming backpack.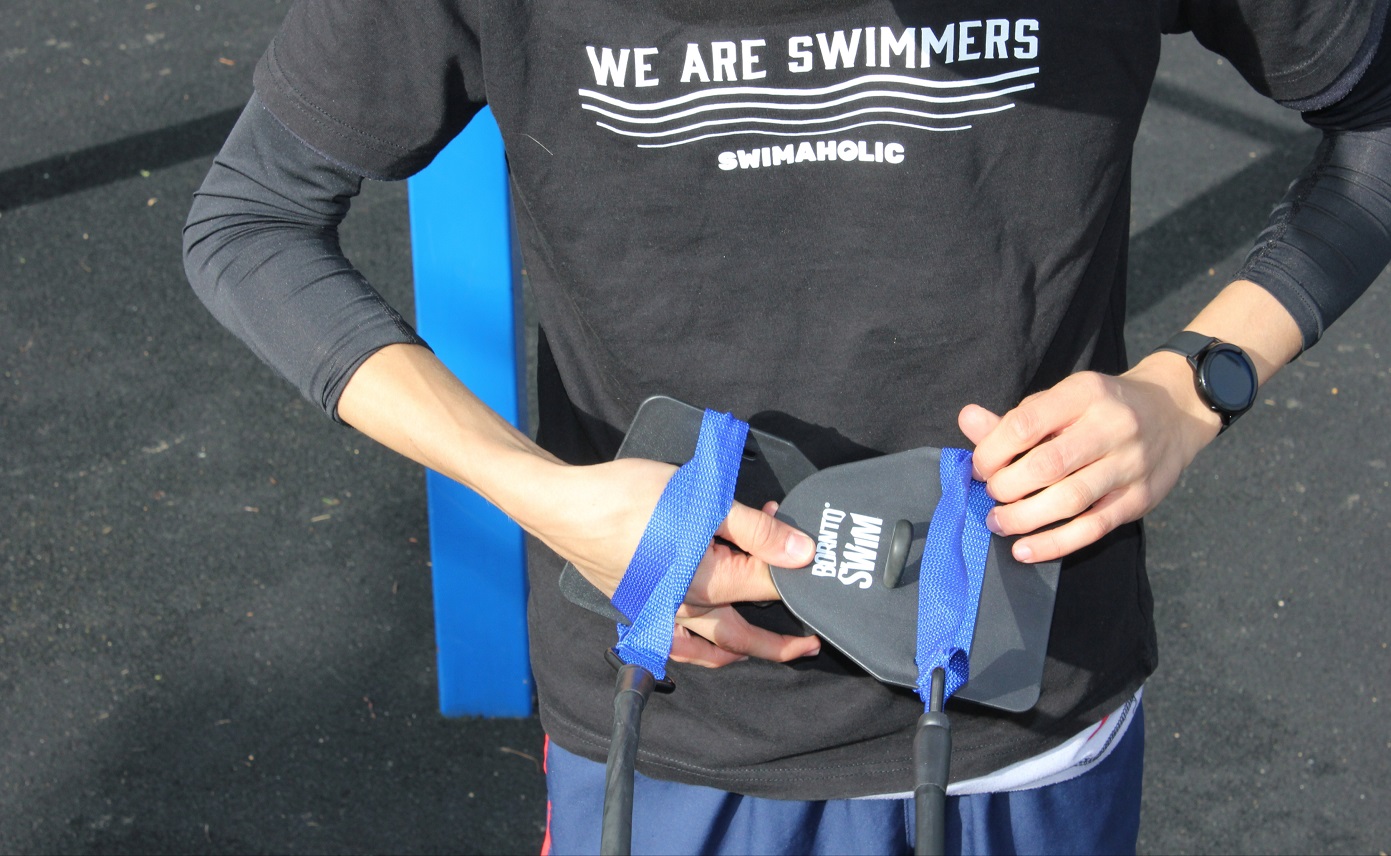 This work-out resistance band is great. You will diversify your training, work out your entire upper body; you will not lose so quickly the necessary feeling in the water, as you can train the crawl, butterfly and breast strokes and constantly train your arm movement as if you were swimming. With this band, you can work out whenever you want, almost anywhere, and I really like that. I was also interested in the design and the inscription BornToSwim on the front of the paddles.
Paddle size: 13x15 mm
Band length: 130 cm
Bands diameter: yellow – 9 mm, red – 12 mm and blue – 14 mm.
Latex material - it is very elastic and adaptable.