Speedo Fastskin Hyper Elite Mirror is the new racing swimming goggles of the successful Speedo brand. They belong to the Fastskin family but with the upgrade.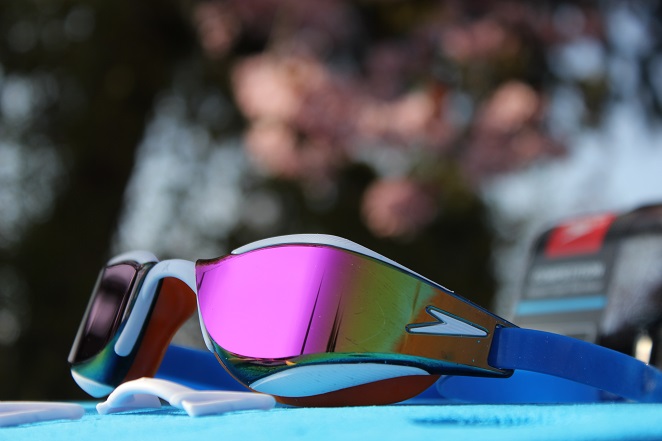 The goggles offer proven technology. You can stay focused with IQ Fit technology and enjoy the maximum comfort with interchangeable beams, and of course, there is the racing silicone strap which also has input in performance.
Compared to the previous Fastskin series, these goggles have more curved eye lenses, so you can see your opponents better with minimal head movement. You will appreciate the improved, more hydrodynamic and more pleasant beam. It offers higher speed, comfort and also durability. I see this as a big plus.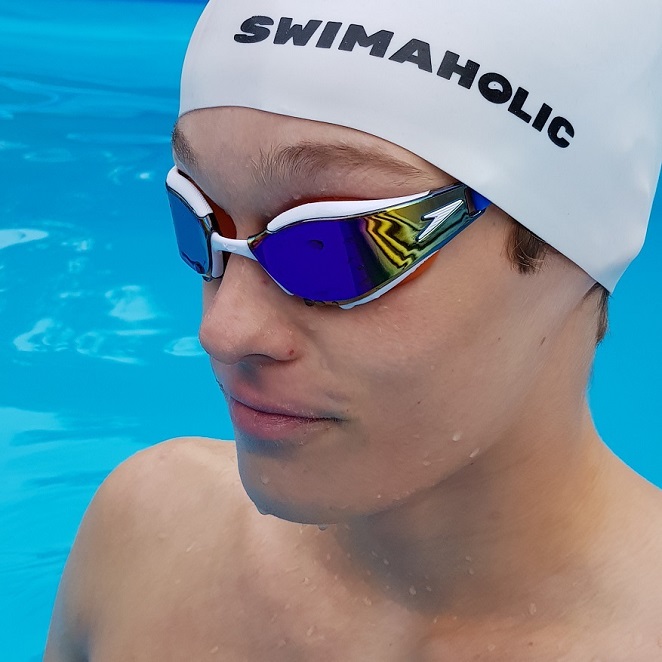 These goggles have been developed in collaboration with the world's best swimmers. They are available in several colour combinations that swimmers can choose from to suit their style. I chose blue–white and I'm excited about this colour combination.
Hyper Elite Mirror racing goggles are designed to help swimmers perform at their best. This is exactly the feeling I had in the water. The goggles are light, beautiful and I felt fast and invincible in them. The fact that they are designed for racing certainly doesn't mean that I would not recommend them for daily training.
My only criticism of these goggles is that the tint of the lenses is too dark. With the Speedo Fastskin Pure Focus Mirror, I was used to the lighter, slightly purple lenses that suited me best, but everyone prefers something different, so I don't even take that as a drawback. I would also take slightly longer side "feet" for stability, which would send these goggles up a level.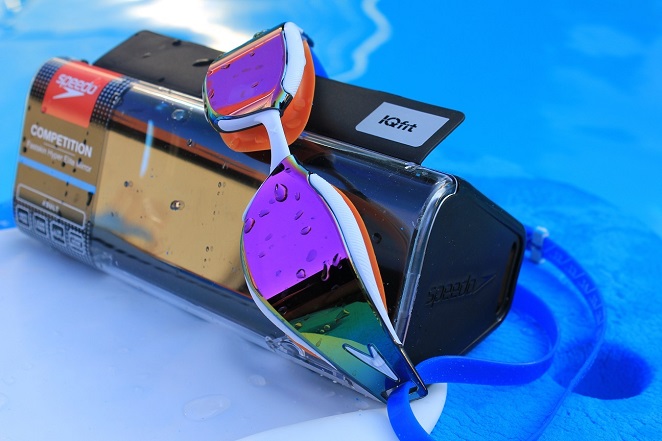 Those who are comfortable with the Speedo Fastskin Pure Focus Mirror will definitely be comfortable with this upgraded version.
I really loved these goggles and they are now my TOP goggles to swim with. I believe these are some of the best racing goggles you can get from Speedo.
- they are definitely some of the best-looking racing swim goggles I've ever seen
- beautiful racing design
- comfort thanks to IQ Fit
- hydrodynamic shape
- mirrored lenses
- great antifog
- better peripheral vision and nicely curved eye sockets
- comfortable and durable beams
- tape measure on split silicone strap
Everyone has a different preferences so I can't say that these racing goggles will fit everyone, but whoever does, you will definitely be happy and fall in love with them, just like I did.
Fastskin is a label for Speedo products that are designed for the best hydrodynamics in water. It's a swimming equipment designed for racing and performance swimmers to reach the most optimal performance. In the Speedo Fastskin range you will find complete equipment. The main ones are, of course, swimwear, goggles and caps that are homologated by FINA, but you can also find training equipment like kickboards, hand paddles and fins. The main success of these technologies is that Speedo carried out a 3D scan of elite swimmers and, through computer simulation, then conducted research and calculations on the resistance and durability of materials.
The IQfit technology is based on years of research. It is designed to ensure that the glasses perfectly fits to the shape of the head. The sealing perfectly fits and makes almost no pressure on the face, so you will not have any strain after swimming. This technology maximizes comfort and minimizes water resistance.
Designed in universal size for adults.
The eyepieces have mirror adjustment so that they can be used even in outdoor swimming without any problems. Mirror-colored goggles provide protection against sunlight and glare, but it's also a design issue.

Antifog is an antifog layer inside the eyepieces. This layer significantly reduces glare. We recommend that you wash your swimming glasses with clean water after swimming and, before putting it into the case keep your goggles dry completely. Do not wipe your goggles with any handkerchiefs or touch them, damage the anti-fog layer, and the goggles will become foggy.

UV-filter absorbs dangerous UVA and UVB radiation, which can damage your vision. The goggles with UV-filter are suitable for outside and inside swimming.

The goggles have a wide angle of vision, providing you wide view and you can observe the surroundings. Ideal for swimmers on open water or triathlon.

Swimming goggles have a double straps. This type of tape is designed as one long elastic band, which is doubled. Its advatage is that it fits to the head better, you can put one strap above and one below or set each of them according to your needs. The great advantage of these straps is that even if they are torn they can easily be replaced by new ones.

The goggles have an exchangeable nose bridge. The nose bridge can be removed and replaced for longer or shorter ones. You can determine which length best suits you and adjust your swimming goggles according to your requirements and shape of your face.
It is designed as unisex.
The package includes a solid protective goggles case. It protects your glasses from scratches. The protective case also ensures the goggles' safe transport.

There are 3 sizes of exchangeable nose bridges available.
Approved and certified by the International Swimming Federation FINA (Fédération Internationale de Natation). It meets all international standards and allows start at prestigious races.