Tyr Hydroblade Fins are short training fins. Thanks to the fact they are shorter, they enable shorter and faster kicks. Training fins are used to strengthen the lower limb. They help with correct posture, increase stamina, speed during swimming and thus increase the feeling of water flow.
On both sides, the fins have sidebars which make controlled kicks easier. Thanks to the loose heel allow greater range of movement in the ankle. On the heel they have a loop for more comfortable putting on and take off.
Size table Tyr Hydroblade Fins
| | | | | | |
| --- | --- | --- | --- | --- | --- |
| Size | S | M | L | XL | XXL |
| Size EU | 37-39 | 40-41 | 42-43 | 44-45 | 46-47 |
Fins are the most important tool that should not be missing from your bag! It is my favorite aid, and as I like to say, "training without fins is like macaroni without cheese".
The fins can be used under any circumstances. It doesn't matter if it's the beginning of the season, or whether it's already tuning, in the beginning, in the main season, in the end of the season.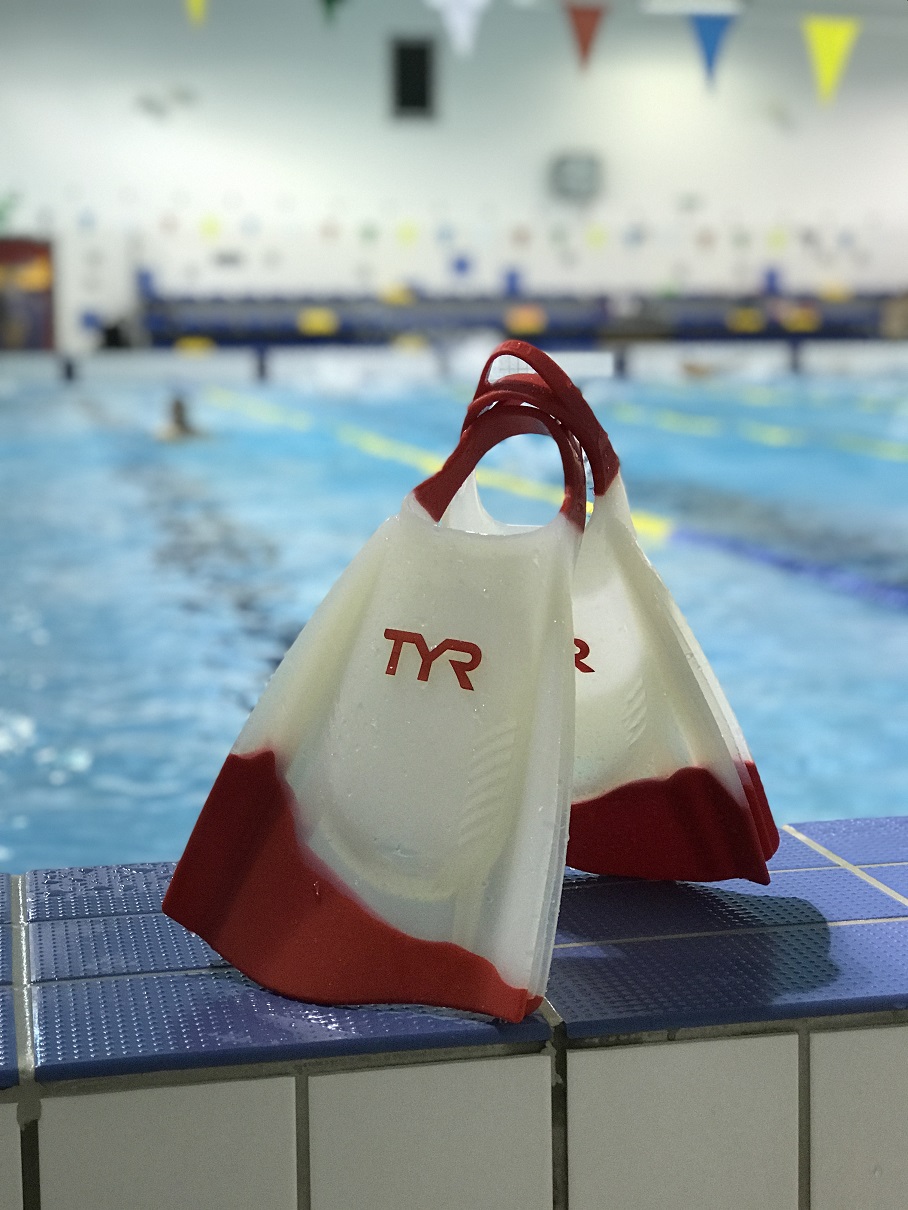 There are many reasons for using fins, but I will tell you the most important ones.
Using fins increases the overall strength and endurance of the legs. The fins create far greater resistance than the instep itself, and by increasing the pace, more strength is required which is ideal for increasing the overall strength and condition of the feet.
Easier kick up. When you swim crawl, the weakest phase of the kick is the one where the foot goes to the surface. This movement can facilitate fins and you will learn to kick upwards.
Help to improve ankle elasticity. The flexibility of ankles is the alpha and omega for the swimmers. If you have a low range of ankle movement, this means that you are kicking the water downwards, and not backwards. Using the fins, your ankle gets into a position where you are forced to stretch and get into the extension, so you are more "drenched" and relaxed.
Improved body posture. If you use the fins properly, your body will get above the water and it feels like you were gliding on the surface of water. This feeling will only remind you of the importance of using your feet when swimming.
I personally tested these rockets from TYR and I was pleasantly surprised. Not only the design will captivate you, when you put them on and see your foot thanks to their transparent material. I was impressed and the fins look like sausages in wrapper. There are five t suit me was their stiffness. They're quite soft, but it's just my feeling, because I'm used to pretty stiff fins, because I like it when it almost kicks me. Anyway, they are really comfortable, and you can swim with them for longer periods without your feet hurting.
There's no reason to be afraid of open heel, quite the contrary. Since I tried fins with open heel, I don't want any other. It ensures the best possible ankle flexibility and a stronger kick.
I recommend the fins to everyone! Just because it's just fun to swim much faster with them. They will help you in many ways and you will love them as much as I do. If you're considering buying fins and thinking about the proper size, I'd personally recommend you to buy smaller size by a number. At the beginning they will be unpleasant, but like any material, the fins will stretch and then your feet will not slip out of them.
Material is 100% silicone - Silicone is a very elastic and longlife material. After use, it is recommended to rinse under running clean water and allow to dry thoroughly.